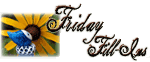 And.... here we go!

1. Up,
up and away
!


2.
Stomach flu has been
going around
, thank goodness my son didn't get it!


3. Coats and scarves, mittens and boots:
these are the things I can't live without on winter time.


4.
Been very busy doing household chores, online tasks and taking care of my son's need today
....
a nice back
rub
and a massage would be very nice before going to bed.


5. I'm thinking about
taking a shower before going to bed tonight.


6.
Let there
be
light and there was light.


7. And as for the weekend, tonight I'm looking forward to
going to bed early
, tomorrow my plans include
register my son at the soccer team and go to Canton with friends in the afternoon
and Sunday, I want to
go to church and then take a nap afterward :-)!