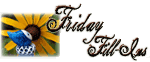 1. No, we will NOT spend more than we earn.
2.
It would be nice to eat again
at the old kitchen table.
3. I watched the steam rising from the hot cup of coffee (or tea) and thought:
I am going to have a relaxing time watching cartoons with my son tonight.

4. Just put your trust in Him

and everything is

going to be okay.
5. I'll take whatever is left.
6.

That was a great idea, at least from my point of view.
7. And as for the weekend, tonight I'm looking forward to do some EC dropping, tomorrow my plans include going to the mall and maybe have picture taken with Santa and Sunday, I want to see some nice Christmas decorations outside!