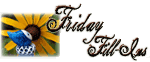 And...here we go!



1. I have a history of End Stage Renal Disease, luckily I have new kidneys transplanted in me

.


2.
Playing piano
is something I wish I knew.
3. I'm eating (or recently ate)
chocolate cupcakes I have baked half an hour ago.

4.
Mud and dirt left from flood are still
on the road.
5. So that's it, that's
all I want, nothing more, nothing less
.


6.
You may not have plenty of money, but having good health
is a lot
better than nothing!
7. And as for the weekend, tonight I'm looking forward to finishing the tasks assigned for me to do, tomorrow my plans include watch the Saturday session of the General conference

and Sunday, I want to attend the Sunday session of the General conference and then rest

!