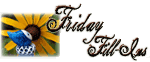 1. Wouldn't it be easy if you give me a hand?
2.

I wished I feel

better than ever!
3. I love the taste of Mediterranean Foods.
4. I watch and blog in the living room.
5. The first thing we're going to do is prepare for rainy days

.


6.Oh, dear I hear under the sink drip, drip, drip;

I better check it out.
7. And as for the weekend, tonight I'm looking forward to cooking

liver adobo

, tomorrow my plans include do the laundry and Sunday, I want to
help Jake with his talk at church!