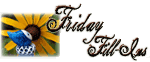 1. Moving

is not fun at all! Right now, we only have two weeks to pack our things up and move back to Texas where we came from one year ago

.

2. We got a coupon for a dinner where the second meal is free.

3. My best quality is

being a hardworking and patient person

.

4.

If you want to join us on this meme, visit the link below for more

details.

5. In nearly 10 years, I've got everything I want... marriage, family, and
simple happy life with my family

.


6.

Job security and good health

, is what I need right now!

7. And as for the weekend, tonight I'm looking forward to
continue packing our stuffs up
, tomorrow my plans include
wake up early, go for a walk or bike with hubby and son, eat a nice lunch, and accompany my son at the swimming pool
and Sunday, I want to
go attend church service and take a nap in the afternoon.
Join us
here
if you want to have some fun!