First, get your weekly fill HERE. And then here we go!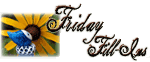 1.
Letting a salesman into my house
was my last random act of kindness.
2. Another place
and Time
.
3.
Trust
in matters of the heart.
4. Coffee, tea or
hot chocolate milk
.
5.
It Is Hard To See a Couple Ends up on
separate paths.
6.
Our Blessings in Life
reminds me that there is God.


7. And as for the weekend, tonight I'm looking forward to

spending time with m family watching movie and doing things together

, tomorrow my plans include

doing the laundry and cleaning the living room

and Sunday, I want to

go to church to pay devotion to the most high God!